Top Selling Nebulizers
Best compressor nebulizer system
Here are three top picks for the best compressor nebulizer system for you to consider.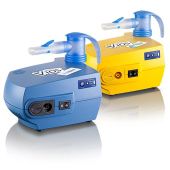 The PARI Vios aerosol delivery system provides fast treatment in a small, fairly lightweight (4 pounds) nebulizer. The Vios features a 6 year warranty, a nebulizer replacement reminder system, 2 PARI LC Sprint reusable nebulizer cups, and a carrying case. It has a handle so it is easy to carry and an advanced nebulizer cup holding clip to make it easier to insert the medication. PARI also offers the Vios in two models, one in blue and a pediatric model in yellow with additional accessories.
Another top pick is the MiniElite Compressor Nebulizer by Respironics. It only weighs about .9 pounds. The compact design makes this nebulizer easy to use and store. It comes with two reusable nebulizers and is very easy to set up and use.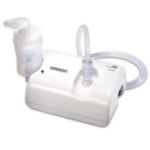 Finally, there's the CompAir #NE-C801 nebulizer system by Omron. This great Omron nebulizer compressor weighs only .625 lbs. and is one of the most affordable nebulizers on the market. The piston pump delivers treatment quickly and efficiently. This dependable nebulizer comes with a carrying case for easy storage at home or on the go.
These three nebulizers are top picks because they are made with your breathing needs in mind by brands you can trust.
Nebulizers by PARI
The PARI Vios Nebulizer and the PARI Trek S Compact Compressor are reliable and effective tools for delivering asthma medication. Here's why patients like PARI jet nebulizers: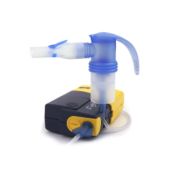 Offers short treatment times (6 to 7 minutes).
PARI's unique valve design is considered the gold standard in nebulizers.
It has a very low level of liquid medication waste compared to other nebulizer systems.
It's suitable for both adults and children.
PARI is a trusted brand that's often used in clinical trials.
The PARI LC Plus reusable nebulizer can be used with any compressor.
The PARI TREK S is a compact, lightweight, and quiet portable nebulizer compressor. It can be used with AC power and has a DC auto adapter.
The nebulizer set (cup) is dishwasher safe.
The PARI TREK S is great for travel and offers all the reliability and convenience of a home nebulizer system.
The PARI TREK S nebulizer system comes complete with two PARI LC Sprint reusable nebulizers (the latest in the PARI LC line), nebulizer cups, mouthpieces, tubing, auto adapter, and carrying case.
The new PARI LC Sprint has an ergonomic design for comfort and a flip top lid for easy medication distribution.
The Ultimate Handheld Nebulizer
If you're looking for the best in handheld nebulizers, search no further than the Omron Micro-Air Nebulizer System. It retails for under $260 and is the most preferred nebulizer when it comes to size and convenience. Here are some more reasons to check out the Omron nebulizer: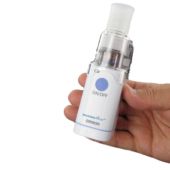 It outperforms other models by delivering 98% of prescription medicine per session. (Note: The Omron Micro-Air is not approved for use with Pulmicort.)
It's suitable for both children and adults.
Its easy portability allows you to follow a more flexible schedule.
You can use the Micro-Air at various angles, even while lying in bed.
Weighing under 6 ounces, The Micro-Air nebulizer is the smallest electronic nebulizer out there.
No tubes or cords are necessary.
You can hear a pin drop thanks to its quiet vibrating mesh technology.
Powering up is easy–all you need is 2 AA batteries.
It comes with a nebulizer unit, cover, cup, mesh cap, mouthpiece, mouthpiece and mask adapter, and a convenient carrying case.
It's easy to clean.
Portable Ultrasonic Nebulizer for Treatments On-the-Go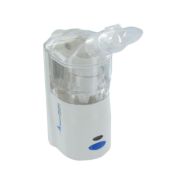 The Portable Ultrasonic Nebulizer is the perfect nebulizer for on-the-go breathing treatments. Here are some good reasons to choose this portable nebulizer:
This machine is lightweight (0.44 lbs).
It's extremely quiet, making it great for use at home, in the office, or around children.
It comes with an optional battery pack, AC adapter, and DC car adapter.
Ultrasonic nebulizers deliver medicine by using high-frequency vibrations to turn liquid medication into a fog, creating a mist that is more consistent than jet-nebulized medication. (Note: Ultrasonic nebulizers are not intended to be used with the medication Pulmicort.)
This model comes with a lightweight handheld compressor and everything you need to use with your medication: mask, mouthpiece, child's mask, nasal piece, two extra air filters, and a reusable cup.
Priced under $100, the Portable Ultrasonic Nebulizer is affordable.
Call the experts at Just Nebulizers for advice about this product and other portable breathing machine solutions.
Respironics MicroElite Portable Nebulizer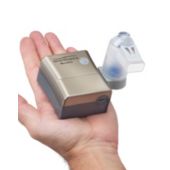 For convenient breathing treatments either at home or on-the-go, take a look at the MicroElite Portable Nebulizer System from Respironics:
The MicroElite uses jet nebulizer technology, combining it with an ultra-compact size and cordless/tubless design to make one of the most effective portable nebulizers on the market .
It weighs only .66 pounds.
It comes with 4 filters, home and car powering adapters, and a carrying case.
It uses a closed water chamber to make treatments more effective.
Priced around $100, it offers affordable convenience.
Portable nebulizers require care just like tabletop models do. When using a portable or handheld unit, always make sure to:
Read and follow the manufacturer's instructions for care and use.
Clean according to instructions and set up as directed.
Wash your hands, measure liquid medication, and dispense medication according to instructions.
Rinse your mouth with water and wash your hands after each use.
Clean and dry the unit according to instructions, then store it safely.
CompXP Deluxe Nebulizer (formerly the NEBXP)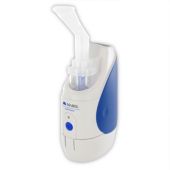 Formerly the NEBXP, the CompXP Deluxe Handheld Compressor Nebulizer System offers all of the convenience of the ultrasonic portables, allowing you to perform breathing treatments away from home.
The CompXP portable nebulizer is versatile–when used with tubing, it's a tabletop unit, and when used without, it's handheld. This portable nebulizer features three power options (home outlet, car adapter, or rechargeable battery) to give you many convenient choices when you take a treatment. Plus, the included carrying case allows you to keep all the parts in one place, making it easy to for you while you're on the go.
The CompXP is also suitable for both adults and children, making it even more handy if more than one member of the family requires a nebulizer. Use it with the Pediatric Dragon mask to make your child feel comfortable during nebulizer treatment.
Make Treatments Fun with the Medquip Penguin Nebulizer System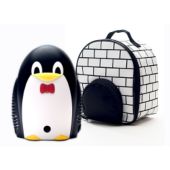 If your child has been prescribed a pediatric nebulizer, the Medquip Penguin Nebulizer System is a fun and kid-friendly option. For $50, this nebulizer comes complete with a compressor, cute igloo carrying case, mouthpiece, nebulizer cup, tubing, and five air filters.
Make nebulizer treatments a special time for you and your child to spend together. During treatment, read your child a book or watch a movie about penguins and find some arctic-themed toys to play with. When treatments are finished, store the penguin in his igloo for safety. Instead of resisting treatments, your child just might look forward to spending special time with you and Mr. Penguin.
Look for other child-friendly nebulizers at Just Nebulizers. Choose from fire engines, cars, trains, and farm animals. Also look for pediatric accessories like character masks and child-sized mouthpieces and masks.
PARI Nebulizers: A Name You Can Trust (Top Selling Nebulizers)
PARI Nebulizers continue to be one of the premium nebulizer brands giving parents and patients peace of mind. There are several to choose from including the PARI Vios and the PARI Trek S. The high power and reliability of the PARI brand has led to a name you can trust.
Clinical trials use PARI nebulizers because of their design and performance. PARI Pharma uses advanced technology to increase effectiveness and customer satisfaction. PARI is an innovative company that is always working to create the best nebulizer technology.
With a five star customer rating, the PARI Vios is the newest compressor in a long line of PARI ProNeb compressors. It is highly rated because of its durability and ease of use. It ensures a quick and efficient treatment when you need it. The average treatment time ranges from 5 to 7 minutes with the LC Sprint reusable nebulizer set. Two sets are included with every purchase to ensure you always have a clean, working nebulizer. Other features include a two compartment carrying case to keep your items safe, clean, and secure, and additional accessories for the pediatric model. A free 6 year extended warranty proves PARIs confidence in the new Vios system.
PARI Trek S compact compressor combination pack is PARI's ever popular travel nebulizer. It also includes 2 PARI LC Sprint reusable nebulizers along with a multi-voltage AC power cord, DC car adapter, and a sleek travel case. It has an optional Lithium Ion rechargeable battery which provides nearly an hour of treatment time per charge. Treatment time is usually short, approximately five minutes and the system is great for getting treatments on the go, even in the car.