Breathing Treatments & Children
Things to Know About Your Child's Nebulizer Treatments
Here are some things to know about your child's nebulizer treatments:
It's very important that the mask or mouthpiece stay on the child so the medication can be delivered properly.
Children will get the most out of treatment by breathing deeply. If your child is upset or crying, treatments may not be effective. If possible, try to plan activities during treatments that keep your child calm.
Encourage activities that require your child to be in a seated and upright position, such as reading, watching TV, listening to music, or spending some quality lap-time with a loved one. Coloring, writing, or activities where the head is bent will be hard for your child to do without compromising treatments.
Keep the nebulizer clean (according to instructions) and wash your hands before and after each use. Some parts and accessories may be dishwasher, boil, or autoclave safe, but make sure to follow manufacturer's instructions to ensure proper cleaning and disinfecting of the nebulizer and its parts.
Use the nebulizer according to your healthcare provider's orders.
Measure all medications properly.
Nebulizers for Children
Because inhalers cannot be used by infants and are difficult for small children to use, nebulizers make treatment for asthma or other respiratory conditions easier and more effective for children. Nebulizers deliver medicine directly to the child's airways, assuring parents and caregivers that the child's needs are being met. If your healthcare provider has recommended a nebulizer for your child, consider the following information when selecting the right children's nebulizer:
There are two types of pediatric nebulizer: compressor and ultrasonic. Compressor tends to be the most popular for its affordability and convenience.
Both types of kids' nebulizer come in tabletop or battery-powered models, both which convert liquid medication into a fine, breathable mist. The mist is delivered by a pipe-like mouthpiece or face mask.
Compressor nebulizers compress air to create a mist, while ultrasonic nebulizers use high-frequency sound waves to push the medication through mesh and convert it into cool aerosol.
Compared to compressor nebulizers, ultrasonic models offer shorter treatment times; however, they can only be used with certain medicines. Consult your healthcare provider to find out which type of nebulizer will work with your child's medication.
There are child-friendly nebulizers available that are designed to put kids at ease during treatment. Look for fun characters or bright colors that fit your child's personality.
Nebulizers for Babies
Nebulizers are recommended for many people with breathing problems, including babies. Nebulizers are often used to treat RSV (Respiratory Syncytial Virus) and croup in babies and can also be used for other respiratory illnesses. Delivering medicine with a nebulizer is a great way to manage your child's symptoms, but it's extremely important to get your healthcare provider's advice and prescription before using a baby nebulizer. Once you get the go-ahead, consider the following information when choosing a baby nebulizer.
Get Your Child Involved
It's common for children to resist nebulizer treatment. Convincing a child to sit still is a challenge anyway, but combine that with a machine that can be intimidating and treatments seem nearly impossible. Choosing a colorful, child-friendly model helps make treatment time feel more like playtime, but what's even better is involving your child by letting her help choose her nebulizer. When browsing your options, be positive—your excitement might just rub off on her and get her thinking positively about treatment. The following children's nebulizers are available at JustNebulizers.com: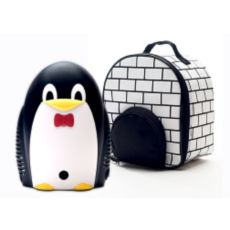 Many nebulizers for children are also designed to operate quietly, which helps them seem less scary. If you have questions about any models, contact the experts at Just Nebulizers for assistance.
Making Nebulizer Treatments Fun for Kids
If your child requires nebulizer treatments, you may be wondering how to put him or her at ease in order to maximize the benefits of the medication. Proper delivery of medicine to your child's airways requires that he or she breathe normally and relax for 5 to 15 minutes. Here are some ideas from the experts on making the process fun:
Be positive about treatments. Talk about the nebulizer as a helper for your child.
Let your child feel in charge by using fun stickers to mark treatment times on a calendar.
Try to stick to a schedule so your child knows that using the nebulizer is part of the daily routine.
Pretend with your child that he or she is a firefighter, astronaut, pilot, or alien once the mask goes on and play along during treatment.
Consider purchasing an extra mask to wear while your child is using the nebulizer so he or she won't feel alone.
Have your child think of treatments as time that you'll spend reading or playing together. Pick a favorite book or game ahead of time and get excited about it throughout the day.
Schedule treatments during a favorite TV show.
Choose a nebulizer for children. There are fire engine nebulizers, penguin nebulizers, and other character-themed models on the market designed to make treatments something for your child to look forward to.
Fun Nebulizers and Accessories for Kids
When using a nebulizer to deliver your child's medicine for asthma or another respiratory condition, you want to be sure the treatments are effective. Sometimes, children are not willing to sit through the process–they get bored, impatient, or are frightened by the machine.
The manufacturers of nebulizers and nebulizer accessories understand the need to make your child feel comfortable during treatment to maximize medical benefits. As a result, there is a good selection of nebulizer products on the market that speak to this need.
The Margo Moo Compressor Nebulizer System by MABIS is a barnyard-themed nebulizer system for kids. The cow-shaped compressor unit comes complete with everything you need to nebulize, plus a barn-style carrying case. Medquip also makes child-friendly nebulizers that come in 5 different themes, including Panda, Duck, Building Blocks, Penguin, and Fire Engine. In addition to making your child feel more comfortable with nebulizer treatment, these products fall on the lower end of the nebulizer price range. The PARI Vios includes a Bubbles the Fish Pediatric Aerosol Mask, a sticker set, and a coloring book to make nebulizer treatment fun for kids.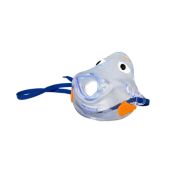 If you already have a nebulizer in your home, there are kids' nebulizer accessories that may be usable with the system you have. PARI's Bubbles the Fish face mask, for example, can be purchased separately for use with PARI pediatric or standard nebulizers. If your child really enjoys the mask, expand on the fun with some ocean-themed toys that can be set aside just for nebulizer treatments to turn treatment time into something to get excited about. There's also a pediatric dragon mask that can be used with most compressor nebulizers. If you have questions about compatibility, contact the experts at Just Nebulizers.
How do pacifier nebulizers work?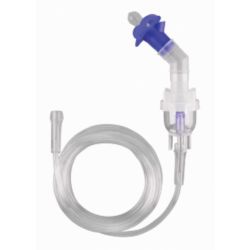 Nebulizer treatments for infants, babies, and toddlers are quite common. They are used to treat RSV (Respiratory Syncytial Virus) and other respiratory conditions. While most medical professionals are unlikely to diagnose an infant or baby with asthma, that does not mean they cannot or will not have asthma symptoms. In these cases, young children often fight treatments with masks, making treatment difficult. One alternative is a pacifier attachment for a nebulizer cup.
A pacifier attachment works by attaching to the nebulizer cup where a mouthpiece or mask might otherwise attach. The child is given a pacifier as usual, but rather than air being delivered through the mouth, it is delivered through the nose. A child naturally breathes through their nose when using a pacifier, and their treatment medication can then be inhaled and carried to the lungs. A pacifier attachment can be used with most medicines, but for chronic or frequent treatments, a specially fitted mask is preferred. Pacifier attachments only work with disposable top-loading nebulizer set and cannot fit any front loading nebulizer, like the PARI nebulizer sets.
Newest Pediatric Nebulizer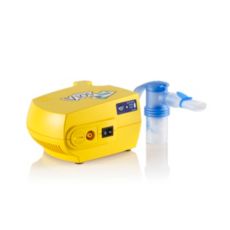 The PARI Vios Pediatric Nebulizer is a newly redesigned compressor model that is an excellent choice for children with asthma. The PARI brand is an established leader in the industry, and this new model lives up to the PARI name and reputation. This tabletop PARI unit provides numerous features that make it ideal for families needing a pediatric nebulizer.
The unit weighs only three pounds, and it is one of the lightest and smallest compressors available in today's market. This is an excellent nebulizer for both pulmicort and albuterol treatments. The unit features a powerful motor that offers shorter treatment times than many other brands, usually taking only five to seven minutes per treatment.
The system is a bright yellow color that appeals to young children. In addition, the unit comes with a PARI Pals activity book, Bubbles the Fish II aerosol pediatric mask, sticker set and decoder card to create some fun for your child. The system is designed to be both easy and entertaining for your child. The system also comes with a six-month TimeStrip indicator to remind you when it is time to change your nebulizer cup. A two compartment carrying case helps to keep your components organized, clean, and safe. This nebulizer receives superb reviews from consumers who find it to be an excellent value and reliable system.
Favorite Child Nebulizer
It's never easy to have a child with a serious medical condition. Be it injections, liquid medicine, or a neb treatment, treating your kid can be tough! Fortunately, there are some options for nebulizers that work great while encouraging kids to play and relax throughout their treatment.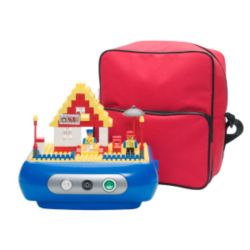 There are a lot of choices of nebulizer systems designed to make treatments more tolerable because they look and feel like toys. Medquip's fire truck nebulizer, for example, is reasonably priced and at first glance looks and feels just like a toy fire engine. It rolls and the ladder can be raised and lowered. Wearing an oxygen mask like a fireman can make kids feel more at ease with their treatment. Additionally, a penguin nebulizer with matching igloo case is a great way to create a routine out of the treatment. When the penguin comes out of his igloo, it is time to have a treatment. Coupling treatment time with TV or reading time can also help your child to enjoy his/her treatment and prepare for it each day.
Another favorite is the Medquip Building Block Nebulizer. This nebulizer system has three sets of interactive Lego-like blocks for kids to choose from. Using the nebulizer as a play thing encourages kids to relax and enjoy treatment times rather than fighting them. To encourage imagination and fun, try masks like an underwater fish mask or a lovable puppy dog mask to help them play through the treatment.